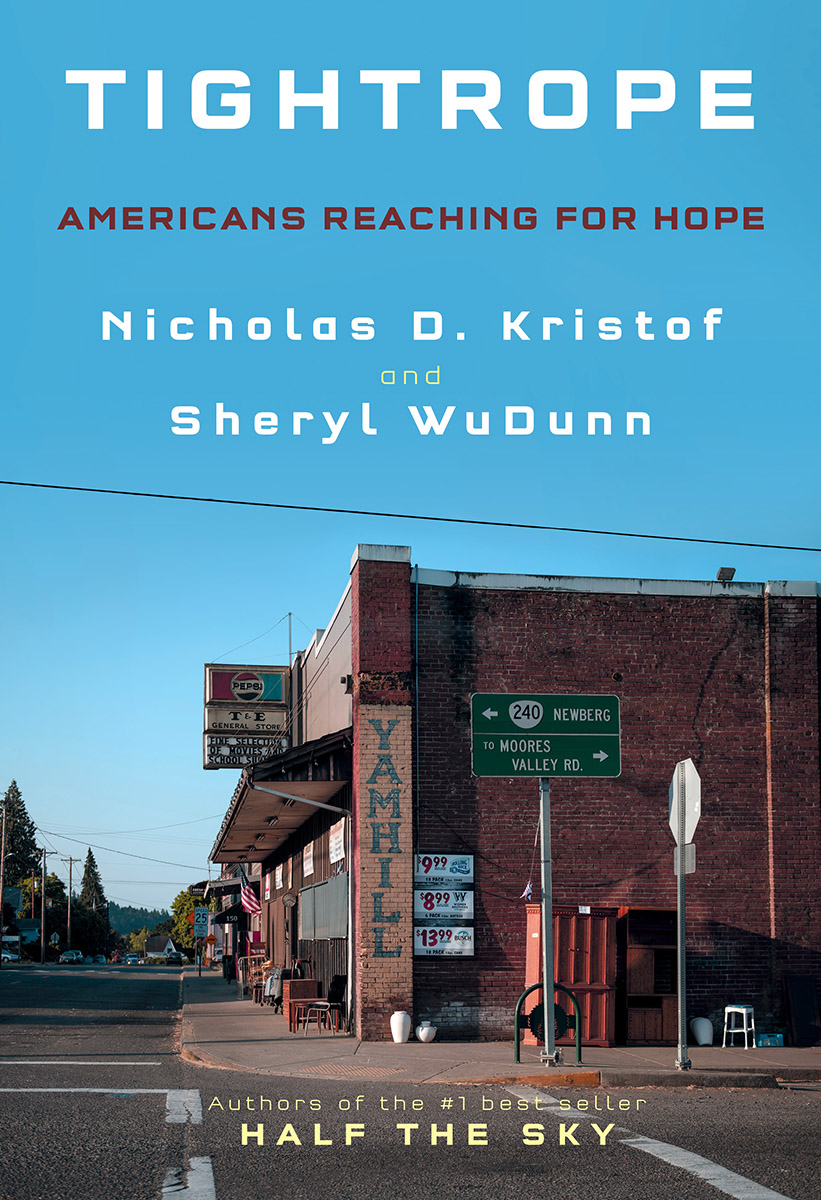 TIGHTROPE
Americans Reaching for Hope
By Nicholas D. Kristof and Sheryl WuDunn
Buy Now
Nicholas D. Kristof and Sheryl WuDunn's China Wakes, Half the Sky, A Path Appears, and Thunder from the East are available in Vintage paperback.
Also available from Penguin Random House Audio and Random House Large Print With 40 photographs.
Jacket photograph © Lynsey Addario
Jacket design by Chip Kidd
U.S.A. $27.95
Canada $36.95
Alfred A. Knopf, Publisher, New York aaknopf.com  1/2020
About
Across the country communities are struggling to stay afloat as blue-collar jobs disappear and an American dies of a drug overdose every seven minutes. Stagnant wages, weak education, bad decisions, and a lack of health care force millions of Americans into a precarious balancing act that many of them fail to master. With stark poignancy, Tightrope draws us deep into this "other America," and shows that if America is to remain a superpower, it must empower all its people.
Pulitzer Prize-winning authors Nicholas D. Kristof and Sheryl WuDunn tell this profoundly personal story in part through the lives of people Kristof grew up with in rural Yamhill, Oregon. It's an area that prospered for much of the twentieth century but has stumbled in the last few decades as manufacturing jobs evaporated. About one-quarter of the children on Kristof's old school bus have died from drug overdoses, alcohol abuse, suicide or reckless accidents. One family had five smart, talented children on the bus; four are now gone, and the youngest survived mostly because he spent years in prison. The next generation has lost its footing as well, for the community's strong social fabric has ripped and family structure has crumbled. The upward mobility of the previous generation has collapsed. While these particular stories unfolded in one corner of the country, the authors find these problems in Alabama, Oklahoma, Virginia, Tennessee and across the heartland.
But here, too, are stories of hope and resurgence, among them: Annette Dove, who devotes her life to helping the teenagers of Pine Bluff, Arkansas, as they navigate the chaotic reality of growing up poor, and Daniel McDowell, of Baltimore, an army veteran whose journey from opioid addiction to recovery suggests that there are viable ways to address our nation's drug epidemic. Taken together, these compelling accounts illuminate a desperate stratum of America—and a way forward.
With their superb, nuanced reporting, Kristof and WuDunn have given us a book that is both riveting and impossible to ignore. While our present state may seem grim, they issue a clarion call to strengthen America by strengthening each American, so that this country can compete once again at the top of its game. To do so, we must demand better of our leaders, our business executives and ourselves.
"This is an unflinching book that illustrates the central, confounding American paradox — in a country that purports to root for the underdog, too often we exalt the rich and we punish the poor. With thorough reporting and extraordinary compassion, Kristof and WuDunn tell the stories of those who fall behind in the world's wealthiest country. Yet amid all the tragedy and neglect, Kristof and WuDunn conjure a picture of how it could all get better, how it could all work. That's the miracle of Tightrope, and why this is such an indispensable book."
—Dave Eggers, author of The Captain and the Glory
"A deft and uniquely credible exploration of rural America, and of other left-behind pockets of our country. One of the most important books I've read on the state of our disunion."
—Tara Westover, author of Educated
"A quarter of the chums Nicholas Kristof rode to school with in the 1970s in sundown rural Yamhill, Oregon, are dead, this riveting book reveals, from drugs, alcohol, obesity, reckless accidents and suicide. The authors conceive of such childhood friends and others like them across rural America as unwitting shock absorbers of cruel trends for which we have yet to acknowledge collective responsibility. Read this deeply empathic, important, and timely book and pass it on!"
—Arlie Russell Hochschild, author of Strangers in Their Own Land
"Tightrope is a heroic, harrowing, and at times tender look at the high wire act that is survival for too many people today. Kristof and WuDunn know there are no easy solutions here, but that doesn't mean we can't take action, whether by pushing for better policies, or changing our own attitudes. This book will shake you—it did me—and that is the point."
—Bono, lead singer of U2 and Co-Founder of ONE and (RED)
"This is a must-read that will shake you to your core. It's a Dante-esque tour of a forgotten America. Tightrope shows how we can and must do better."
—Katie Couric